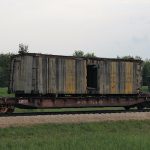 AC&F 1910
Kingan Refrigerator Line (KRLX) 943
Equipment Information
KRLX 943 is a refrigerated boxcar, or "reefer," built to transport meat products that required refrigeration. Kingan & Co., which was located in Indianapolis, operated a fleet of reefers similar to this one. This car has insulated sides and "bunkers" at each end where blocks of ice were loaded to keep the car's interior and contents cool. It is also a "billboard" car, so called because it was painted with large advertising slogans. Preserved billboard cars are rare because advertising of this sort was outlawed in 1932. KRLX 943 is the oldest reefer preserved at IRM.
FUN FACT: You've heard of the invention of sliced bread, but what about sliced bacon? Kingan was the inventor of pre-sliced, packaged bacon, rolling out the product in 1914 and shipping it in the company's fleet of reefers like this one. In fact, this car had the words "Reliable Sliced Bacon" emblazoned on its sides in giant letters.
Click here to support efforts to preserve and, ultimately, restore this historic car.
Kingan Refrigerator Lines 943 Details
Builder: American Car & Foundry
Year built: 1910
Width: 9ft 8in
Weight: 45,800 lbs
Brakes: KC
Trucks: Andrews
Description: Wood meat reefer
Arrived: 2021
Condition: Incomplete / unrestored /  not operational
Read more about the history of this car in Rail & Wire #268
Kingan Refrigerator Lines 943 Ownership History
1910-c1933 – Kingan Refrigerator Lines #943
c1933-2014 – Privately owned, Indianapolis, IN (warehouse storage room)
2014-2021 – Indianapolis Transportation Museum, Kirklin, IN
2021-present – Illinois Railway Museum, Union, IL
Click to return to Freight Car roster
Click to return to main roster page