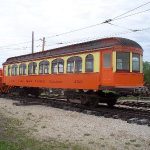 Niles 1906
Lake Shore Electric 150
| | |
| --- | --- |
| Description: | Single-end railroad-roof wood coach |
Equipment Information
Lake Shore Electric 150 is a wooden interurban coach which operated between Cleveland and Toledo. It is a typical car similar to hundreds of others used throughout Indiana and Ohio on the Midwestern interurban network. The railroad retired it in 1938 and sold its body for use as a house. Museum volunteers have repainted car 150 but it but would need extensive reconstruction and replacement of missing mechanical parts in order to operate again. Car 150 is the only Ohio interurban car preserved at IRM as such.
Lake Shore Electric 150 Details
Builder: Niles Car & Mfg. Company
Year Built: 1906
Seats: 52
Length: 50ft 11in
Width: 8ft 7in
Height: 13ft 8in
Weight: 75000 lbs
Brakes: AMM
Motors: 4 WH 121
Control: M-C36
Compressor: D2-EG
Trucks: Bald 84-30
Description: Single End / Double Truck / Railroad Roof / Wood Coach
Arrived: 2000
Condition: Incomplete / cosmetically restored / not operational
Lake Shore Electric 150 Ownership History
1906-1938 – Lake Shore Electric #150
1938-1977 – Privately owned (house)
1977-2000 – Station Square, Pittsburgh, PA
2000-present – Illinois Railway Museum, Union, IL
Adaptive Reuse of Railroad Cars
Old railroad cars have long been adapted to other uses when they became worn out or obsolete, and no longer needed for their original purpose. Box cars, for instance, make excellent storage sheds, and IRM has many of them serving as warehouses on wheels. Passenger cars have lots of doors and windows, and are easy to adapt as summer cottages, year-round homes, diners, shops, or sheds. The old wooden cars were much easier to adapt than modern stainless steel cars would be, and nowadays this adaptive reuse seldom happens.
But when the Lake Shore Electric Railway shut down during the Great Depression, it sold nearly its entire fleet of trolley cars at low prices to buyers across northern Ohio as homes, diners, and sheds. This particular car became a house in Milan, Ohio in 1938 and later moved to Fremont. In the process, it lost its wheels, motors, and other mechanical equipment, its seats, and many other parts.
In 1978 car 150 moved to Pittsburgh and became a flower shop. But it could have been worse. Our Lake Shore Electric box car, number 810, was a shed on a pig farm. Car bodies like this are usually called "chicken coops." Most of these old chicken coops are long gone by now, but museums have acquired several for eventual restoration. Restoring one is very difficult, but not impossible. IRM beautifully restored the body of another interurban car, Fort Wayne & Wabash Valley 504. although it is not yet operational. Our West Towns streetcar, number 141, was a house near Lisle for many years, but IRM volunteers restored it to operation in a heroic effort that took about 15 years. We have repainted this Lake Shore Electric car, but we have no plans to restore it to operation.
Click to return to Interurban Car roster
Click to return to main roster page