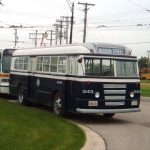 Ford 1944
Montebello Bus Lines 17
| | |
| --- | --- |
| Description: | Gas Bus Model 99T |
Equipment Information
Montebello, California, is a suburb of Los Angeles, located just east of the city in the San Gabriel Valley. Agriculture played the largest role in Montebello's history, until the discovery of oil in 1917. Montebello Bus Lines, established by the city government, still operates 66 buses over routes extending through 14 suburbs and running into downtown Los Angeles.
Before World War II, many manufacturers built their own designs of buses, often in small quantities. One of the more successful was the Ford Motor Co. Its "Ford Transit Bus" line, seating only 27 people in the standard body, was built in various configurations from 1936 to 1947. Ford produced the chassis and bought the body from the Union City Body Co. in Union City, Indiana. Buses built after 1939 were equipped with Ford's flathead 239 cubic inch V8 gasoline-fueled engine, producing 95 horsepower and located in the rear. All were equipped with a three-speed manual transmission. In total, about 13,700 Ford Transit Buses were built, but operating examples are very rare today.
The Chicago & West Towns Railway operated electric streetcars and motor buses in the western and southwestern suburbs of Chicago. C&WT began operating buses in 1923, and soon was running more buses than streetcars to save the expense of track infrastructure in less populated areas. Bus 17 was painted as a fictitious "C&WT 343" to illustrate the type of vehicle used by this railway.
Bus 17 was acquired in 1989 from the Orange Empire Railway Museum. It is complete and operable.
Builder: Ford Motor Company
Year Built: 1944
Model: 99T
Seats: 27
Length: 25ft 9in
Width: 8ft
Height: 9ft 1in
Weight: 10600 lbs
Engine: Ford 8MTH
Transmission: 3 Speed Manual
Description: Gas Bus
Arrived: 1989
Condition: Complete / restored (as C&WT 343) / operational
Ownership History
1944-? – Montebello Bus Lines #17
?-1989 – Orange Empire Railway Museum, Perris, CA
1989-present – Illinois Railway Museum, Union, IL (as Chicago & West Towns #343)
Click to return to Motor Bus roster
Click to return to main roster page