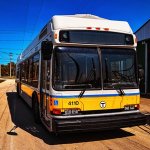 Neoplan 2003
Massachusetts Bay Transit Authority 4110
| | |
| --- | --- |
| Description: | Model AN440LF-ETB |
Equipment Information
The most significant bottleneck in boarding and alighting from traditional high-floor buses has always been the steps just inside the entrance and exit doors. Wheelchair users and others with limited mobility who can't climb the steps are unable to ride the bus if it is not equipped with a wheelchair lift, a complex mechanical device which adds to the cost of the vehicle. Both problems could be solved if the floor could be made low enough to not need a step after boarding, but with much of the equipment on a transit bus below the floor, careful design is needed.
Neoplan USA was an important, although not particularly large, builder of buses, based in Lamar, Colorado. They were the American licensee of German-based Neoplan Bus, with products that were designed for the American market. Their reputation was damaged by structural cracks in some of their 1980s models, and the struggling company was the only bidder when MBTA requested bids to replace their older fleet of trolley buses. Neoplan proposed their AN440LF model, usually fueled by diesel or compressed natural gas, adapted as a trolley bus; they would be the first low-floor trolley buses in North America. The propulsion and controls were manufactured in the Czech Republic by Škoda, consisting of an IGBT-based inverter mounted in pods on the roof, and an AC traction motor. Note the extra left-side door; this was used in a bus subway at Harvard Square, and for certain left-side stops.
The Colorado plant had never built trolley buses before, and most of the work was handled in Germany and the Czech Republic. They produced the fleet of 28 air-conditioned trolley buses in 2003 and 2004, and the unusual vehicles were quite successful, thanks to good maintenance and light use. MBTA elected to abandon the small trolley bus system in March 2022, and IRM acquired bus 4110 in May 2023. It is complete and operable.
Builder: Neoplan USA
Year Built: 2003
Model: AN440LF-ETB
Seats: ??
Length: ??
Width: ??
Height: ??
Motors: 1 Skoda 7ML3550K/4
Control: Skoda
Description: Trolley Coach
Arrived: 2023
Condition: Complete / unrestored / operational
Ownership History
2003-2023 – Massachusetts Bay Transit Authority #4110
2023-present – Illinois Railway Museum, Union, IL
Click to return to Trolley Bus roster
Click to return to main roster page