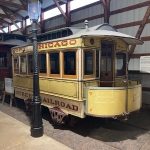 Stephenson 1859
North Chicago Street Railroad 8
| | |
| --- | --- |
| Description: | Single-end single-truck Bombay-roof horse-drawn car |
Equipment Information
North Chicago Street Railroad 8 is the oldest street railway car from Chicago in existence. It is also one of relatively few preserved horse-drawn streetcars anywhere and it is the oldest piece of railway equipment at the museum. In service, one or two horses would haul this car with the driver standing on the front platform. Horse cars were used in Chicago from 1859 until 1906, when the last horse car lines were replaced by electric streetcars.
COMPARE ME WITH: West Chicago Street Railroad 4, an early electric streetcar typical of the ones that replaced horse cars. The electric car, while small by later standards, is still larger, sturdier, and far faster than the horse car.
FUN FACT: In 1872 a mass outbreak of equine influenza struck the United States, leading to the death or disabling of millions of horses. Street railways, universally horse-drawn at the time, ground to a halt all over the country. A few lines in Manhattan actually tried hiring gangs of men to haul the horse cars but this experiment didn't last very long!
North Chicago Street Railroad 8 Details
Builder: John Stephenson Car Company
Year Built: 1859?
Seats: 18
Length: 12ft
Width: 7ft 5in
Height: 9ft 6in
Weight: 4000 lbs
Brakes: Hand
Trucks: Pedestal
Description: Single End / Single Truck / Bombay Roof Horse Car
Arrived: 1985
Condition: Complete / unrestored / not operational
Horse Cars
The horse-drawn streetcar, originating in the mid-1850s, was a natural development of the horse-drawn omnibus; steel wheels and rails reduced friction and provided guidance. But the drawbacks of using horses as motive power were many. Speed was limited to about 6 MPH, and only very small cars could be used.
Street railway service was particularly hard on the horses. Whereas a farmer could afford to let his plow horses rest at the end of each row, a horsecar could not just stop in the middle of a busy street; they had to keep moving. A horse could only work 3 or 4 hours a day, even in teams, so the company needed five to eight times as many horses as cars. A horse that had been used in streetcar service quickly became worn out, and could not be resold except at a very low price. The horses required lots of food, water, hostlers, veterinarians, and so forth. And the vast amount of horse manure left on the streets was no joke.
Horses are also subject to infectious diseases. In 1872 an equine epidemic called the Great Epizootic swept North America. In New York alone, 18,000 horses died in a couple of weeks. The railway companies had to hire teams of immigrants to pull the horsecars by hand. A less satisfactory means of urban transportation is hard to imagine.
So the street railway companies were constantly hoping to develop a better system. In the late 1800's, the development of the cable car and then the electric streetcar permitted the retirement of horses. This car managed to survive, however. It was rebuilt in 1933 for the Century of Progress exhibition to show how much the streetcar had developed.
Click to return to Streetcar roster
Click to return to main roster page