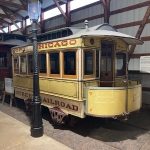 Stephenson 1859
North Chicago Street Railroad 8
| | |
| --- | --- |
| Description: | Single-end single-truck Bombay-roof horse-drawn car |
Equipment Information
North Chicago Street Railroad 8 is the oldest street railway car from Chicago in existence. It is also one of relatively few horse-drawn streetcars preserved anywhere. It is also the oldest piece of railway equipment at the museum. In service, one or two horses would haul this car with the driver standing on the front platform. Horse cars were used in Chicago from 1859 until 1906, when the last horse car lines were replaced by electric streetcars.
COMPARE ME WITH: West Chicago Street Railroad 4, an early electric streetcar typical of the ones that replaced horse cars. The electric car, while small by later standards, is still larger, sturdier, and far faster than the horse car.
FUN FACT: In 1872 a mass outbreak of equine influenza struck the United States, leading to the death or disabling of millions of horses. Street railways, universally horse-drawn at the time, ground to a halt all over the country. A few lines in Manhattan actually tried hiring gangs of men to haul the horse cars but this experiment didn't last very long!
North Chicago Street Railroad 8 Details
Builder: John Stephenson Car Company
Year Built: 1859
Seats: 18
Length: 12ft
Width: 7ft 5in
Height: 9ft 6in
Weight: 4000 lbs
Brakes: Hand
Trucks: Pedestal
Description: Single End / Single Truck / Bombay Roof Horse Car
Arrived: 1985
Condition: Complete / unrestored / not operational