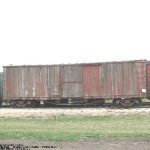 PC&F 1921
Northern Pacific 49444
| | |
| --- | --- |
| Description: | XM Wood Box Car |
Equipment Information
Northern Pacific 49444 is a standard boxcar built for general freight service over the NP system. It is a "double sheathed" car, with tongue-and-groove wooden siding concealing its major structural members. It is a late example of a car with truss rods for structural strength, rather than an all-steel underframe, and features an unusual radial (curved) roof. It was assigned to work service in 1946 and donated to IRM in 1977.
Northern Pacific 49444 Details
Builder: PC&F
Year Built: 1921
Length: 44ft 10in
Width: 9ft 2in
Height: 13ft
Weight: 38500 lbs
Brakes: AB
Trucks: Bettendorf
Description: Wood Box Car (24in lumber door) / ex 43241, 207051
Arrived: 1977
Condition: Complete / unrestored / not operational
Read more about the history of this car in Rail & Wire #183
Northern Pacific 49444 Ownership History
1921-1937 – Northern Pacific #43241
1937-1946 – Northern Pacific #49444
1946-1970 – Northern Pacific #207051
1970-1977 – Burlington Northern #207051
What was Pacific Car & Foundry?
This boxcar, NP 49444, was one of the earliest products of Pacific Car & Foundry. PC&F dated its founding to 1917, when Seattle Car & Foundry of Seattle, Washington, merged with the Twohy Brothers contracting company of Portland, Oregon. The company's main plants were in Renton, Washington, and Portland, Oregon, and it specialized in railroad freight cars (especially tank cars and reefers) and over-the-road logging trucks. American Car & Foundry purchased PC&F in 1924 but sold it back to its original owners ten years later. During World War II, PC&F produced M4A1 Sherman tanks as well as M25 tank transporters. Following the war, PC&F purchased Kenworth Motor Truck in 1945 and then Peterbilt Motors in 1954. Railroad car manufacturing ceased by the early 1980s but the company survives today as a diversified corporation known as PACCAR.
Northern Pacific 49444 is one of two cars at IRM that PC&F built. Dating to very early in the company's history, it contrasts with Milwaukee Road 992300, which was built in 1972, very late in the company's railroad car building era.
Click to return to Freight Car roster
Click to return to main roster page