Internal Combustion Locomotives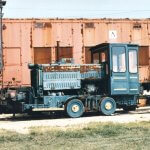 Davenport 1928
Pullman 1792
| | |
| --- | --- |
| Description: | Gas-Electric 10 Ton |
Equipment Information
Pullman 1792 is one of the oldest internal combustion locomotives at IRM and the only one powered by gasoline rather than diesel fuel. It is a small switching locomotive designed for moving one or two cars at a time around the Pullman manufacturing plant on the south side of Chicago.
Pullman 1792 Details
Builder: Davenport
Year Built: 1928
Model: ???
Horsepower: ???
Length: 16ft
Width: 6ft 2in
Height: 9ft
Weight: 20000 lbs
Brakes: Hand
Engine: Buda 6-Cylinder
Motors: 2 GE HM836B
Trucks: Single
Description: Gas-Electric
Arrived: 1975
Condition: Complete / unrestored / not operational
What was the Davenport Locomotive Works?
Pullman 1792 is the only engine at IRM built by the Davenport Locomotive Works. Davenport was a small locomotive builder located in Davenport, Iowa. The company was founded in 1901 and specialized in building smaller steam locomotives, mainly switchers. It began constructing internal combustion locomotives in the mid-1920s and Pullman 1792 is one of the oldest existing internal combustion engines the company built. Davenport continued building locomotives through World War II, including a number of locomotives for the U.S. Army, and into the 1950s. The Canadian Locomotive Company purchased Davenport in 1955 and the plant closed the following year.
Click to return to Internal Combustion Locomotive roster
Click to return to main roster page