Railroad Passenger and Baggage Cars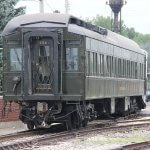 Pullman 1923
Pullman 'Mt Harvard'
| | |
| --- | --- |
| Description: | 10 Sec Lounge-Solarium |
Equipment Information
Pullman car "Mt Harvard" is an all-steel lounge-solarium-sleeping car. It features an enclosed "solarium" lounge compartment with 180-degree views from the back of the train and "section" seating that could be converted overnight into bunks separated by heavy curtains. When new, it had an open rear platform and saw use on the Illinois Central's new train The Floridian. In 1935, Pullman added air conditioning to the car and reassigned it to service on the Southern Pacific Railroad, often using it between Los Angeles and Sacramento. Pullman then rebuilt the car again in 1939 to enclose its open rear platform and make it into a "solarium." Around this time, the Milwaukee Road purchased the car for use between Chicago and Minneapolis. During World War II, "Mt Harvard" sat in storage, then after the war it returned to use between Chicago and Savanna, Illinois. Later, the railroad used it on the Southwest Limited, a Milwaukee-to-Kansas City train. The Milwaukee Road retired the car in 1961.
FUN FACT: This car is the namesake of Mount Harvard, the third highest peak in the American Rocky Mountains, which is southeast of Aspen, Colorado. The mountain itself is named for Harvard University and an adjacent peak is named Mount Yale.
COMPARE ME WITH: Similar car "Inglehome," which retains the older-style open observation platform that "Mt Harvard" had when it was new.
Click here to find out how you can help restore "Mt Harvard"
Builder: Pullman/Pullman-Standard
Year Built: 1923
Description: Heavyweight Sleeper/Solarium/Lounge
Arrived: 2015
Condition: Complete / undergoing restoration / operational
Pullman "Mt Harvard" Ownership History
1923-c1939 – Pullman
c1939-1961 – Chicago Milwaukee St. Paul & Pacific
1961-1971 – Wabash Frisco & Pacific Association, St. Louis, MO
1971-1973 – Privately owned, Fond du Lac, WI
1973-1987 – Privately owned, North Freedom, WI
1987-2015 – Mid-Continent Railway Museum, North Freedom, WI
2015-present – Illinois Railway Museum, Union, IL
Click to return to Passenger Car roster
Click to return to main roster page