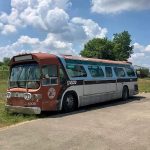 GMC 1976
Regional Transportation Authority 8006
| | |
| --- | --- |
| Description: | Diesel Bus Model T6H-4523A |
Equipment Information
The Chicagoland area's Regional Transportation Authority was created in 1974 to permit public funding and operation of the suburban rail and bus services. Previously, private companies and individual local governments provided a patchwork service, with a route structure largely left over from years past. There was no provision for public subsidy beyond what local governments might, or might not, provide. Many of the remaining private companies were in poor financial condition. The RTA was to receive a percentage of the total sales tax collected in the region, and either provide a subsidy to the existing bus companies or operate the service themselves.
The newly-created agency ordered 156 air-conditioned, 45-seat buses from General Motors, and our bus was built in September, 1976. In contrast to most of CTA's 102-inch-wide buses, RTA ordered their fleet only 96 inches wide. These narrower, shorter buses fit better in the residential neighborhoods typical of the suburbs than a full-size CTA bus would have. They were equipped with Detroit Diesel 6V71N engines generating 228 horsepower, and Allison automatic transmissions.
During the late 1980s, bus 8006 was used in Aurora city service. It retained its orange and light blue paint scheme through its entire life, the only change coming in the mid-1980s to the agency name on the sides. The RTA was restructured into an oversight board, rather than an operator, and suburban bus operations became the responsibility of newly-created Pace.
Bus 8006 was retired in 1993, and was preserved at the Chicagoland Historical Bus Museum. IRM acquired in 2011. It is complete and operable, but awaits transmission and air system work before it can be used in service.
Builder: GM
Year Built: 1976
Model: Model T6H-4523A
Length: 35ft
Width: 8ft
Weight: 19411 lbs
Engine: GM (Detroit) 6V71
Description: Motor Bus
Arrived: 2011
Condition: Complete / unrestored / not operational
Click to return to Motor Bus roster
Click to return to main roster page