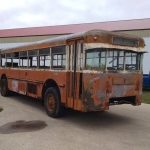 Twin Coach 1932
St Louis Public Service 3529
| | |
| --- | --- |
| Description: | Gas Bus Model 40 |
Equipment Information
Despite substantial development, motor buses were still fairly crude, small vehicles by the mid-1920s, and were not capable of replacing any but the lightest-ridership streetcar routes. Numerous small manufacturers built vehicles that were little more than enlarged automobiles.
In 1927, Twin Coach, based in Kent, Ohio, designed an all-new bus with increased capacity compared to older buses and which represented real competition to streetcars. They called the bus "Model 40," named for its 40 seats. This model was popular enough to sell over a thousand units over the next seven years, and to spur other bus manufacturers to build similar vehicles. St. Louis Public Service operated a total of 55 Twin Coach Model 40 buses.
The company's name, "Twin Coach," refers to the bus's two identical six-cylinder Fageol-Hercules gasoline engines, mounted under the floor in the middle of the bus. These drive separate clutches, transmissions, and driveshafts, and the driver's gear shift lever and pedals operate them in tandem.
This bus was part of an order of fifteen which were purchased by the struggling St. Louis Public Service Co. to open the new Gravois line in the southern part of the city without the expense of streetcar infrastructure. Built as number 529, it was renumbered to 3529 in 1934. It was retired in 1948 and preserved at the Museum of Transport in St. Louis. IRM acquired it in 2015. It is complete, although not yet restored to operation.
Builder: Twin Coach
Year Built: 1932
Model: Model 40
Seats: 40
Length: 31ft 2in
Weight: 14500 lbs
Engine: 2 Hercules WXE
Transmission: 2 manual
Description: Motor Bus
Arrived: 2015
Condition: Complete / unrestored / not operational
Ownership History
1932-1934 – St. Louis Public Service #529
1934-1948 – St. Louis Public Service #3529
1948-2015 – National Museum of Transport, Kirkwood, MO
2015-present – Illinois Railway Museum, Union, IL
Click to return to Motor Bus roster
Click to return to main roster page