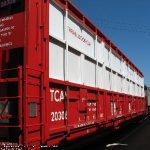 Thrall 1971
Thrall (TCAX) 20306
| | |
| --- | --- |
| Description: | LU All Door Box Car |
Equipment Information
Thrall 20306 is an "all-door" boxcar built for carrying lumber and other large items. Its design features car sides comprised of four huge doors, all of which can be opened for easy access to the interior of the car for loading and unloading. This car remained in service until 1995 and in 1998 GE Railcar Services restored it to its original appearance for donation to IRM.
Thrall 20306 Details
Builder: Thrall Car Mfg. Company
Year Built: 1971
Length: 56ft 4in
Width: 10ft 2in
Height: 15ft
Weight: 82400 lbs
Brakes: ABDX
Trucks: Barber S2 RB
Description: All Door Box Car (Demonstrator)
Arrived: 1998
Condition: Complete / restored / not operational
What was the Thrall Car Manufacturing Company?
A.J. Thrall founded the Thrall Car Manufacturing Company in south suburban Chicago Heights, Illinois, in 1917. Initially the company concentrated on selling used and refurbished freight cars and components, but as time went on it began building its own freight cars. After World War II, the company began to build a variety of specialty freight cars. One type of car that was a specialty of Thrall was the all-door boxcar. The prototype all-door boxcar was built by another company in 1962, but the first production examples emerged from the Thrall shops in 1967. During the 1970s, Thrall built a number of all-door boxcars as well as high-cube boxcars and other large-capacity freight cars. Thrall became a part of Duchossois Industries in 1984 and Trinity Industries acquired the operation in 2001.
Click to return to Freight Car roster
Click to return to main roster page