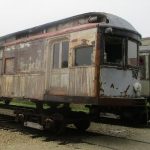 Laconia 1904
Terre Haute Indianapolis & Eastern 50
| | |
| --- | --- |
| Description: | Single-end railroad-roof wood combine |
Equipment Information
Terre Haute Indianapolis & Eastern 50, named the "Clinton," is an all-wood combination passenger-baggage car designed for service on the THI&E interurban lines radiating out of Indianapolis. It was modernized and given its name by the THI&E in the 1920s. The car was retired in 1933 and the body made into a cottage at Shafer Lake, Indiana. It was rescued by IRM in 1996 and is in storage awaiting full restoration.
Terre Haute Indianapolis & Eastern 50 Details
Builder: Laconia
Year Built: 1904
Length: 61ft 6in
Width: 8ft 8in
Height: 13ft 1in
Weight: 80000 lbs
Brakes: None
Motors: None
Control: None
Compressor: None
Trucks: Shop
Description: Double End / Double Truck / Arch Roof / Combine Clinton
Arrived: 1996
Condition: Incomplete / unrestored / not operational
Ownership History
1904-1907 – Indianapolis & Northwestern #50
1907-1930 – Terre Haute Indianapolis & Eastern #50
1930-1933 – Indiana Railroad #50
1933-1996 – Privately owned (house)
1996-present – Illinois Railway Museum, Union, IL
What was the Laconia Car Company?
THI&E car 50, and its sister car 58, are the only cars at IRM built by the Laconia Car Company and two out of only three surviving Laconia-built interurban cars anywhere. Laconia started out in 1848 as the Ranlet Car Company of Laconia, New Hampshire, a company which built wooden freight cars. Business expanded markedly during the Civil War, and following the war the company started building passenger cars as well. In 1894 it expanded to building electric streetcars, and became a successful mid-size car builder, with New England street railway companies forming most of its customer base. Sales to electric lines outside of the northeast were rare, and these two THI&E cars are the only surviving Laconia products built for any property west of New York City. Laconia transitioned to building steel cars in the 1910s, but business decreased over the course of the 1920s. The last streetcars were built in 1928 and the company closed for good in 1931.
Click to return to Interurban Car roster
Click to return to main roster page