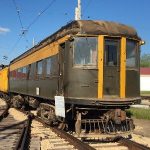 TMER&L 1924
Milwaukee Electric Railway & Light 1136
| | |
| --- | --- |
| Description: | Single-end railroad-roof rebuilt parlor car |
Equipment Information
Milwaukee Electric 1136 is the only surviving interurban parlor car from Wisconsin's largest interurban network. Originally built as a wooden coach in 1909, in 1924 it was completely torn down and rebuilt by the Milwaukee Electric. Retaining only its basic wooden frame, it acquired a new roof, interior, and steel exterior sheathing and was outshopped as the parlor car "Menominee." It was sold in 1941 to the London & Port Stanley interurban line in Ontario and was acquired by IRM in 1955.
FUN FACT: When IRM initially acquired car 1136 it was thought that it was car 1135 and that it had been named "Mendota." It wasn't until museum volunteers sanded down the side of the car to repaint it that its true name, "Menominee," was revealed underneath layers of paint.
COMPARE ME WITH: Fort Wayne & Wabash Valley 504, which is an interurban parlor car built in 1906. Though intended to serve a similar purpose to car 1136, car 504 has a much more ornate Victorian design aesthetic.
Builder: TMER&L
Year Built: 1924
Seats: 48
Length: 54ft 3in
Width: 8ft 7in
Height: 12ft 10in
Weight: 86400 lbs
Brakes: AML
Motors: 4 GE 240
Control: PC
Compressor: CP-29A
Trucks: Stand C80P2
Description: Single End / Double Truck / Railroad Roof / Parlor
Arrived: 1955
Condition: Incomplete / cosmetically restored / not operational
Read more about the history of this car in Rail & Wire #202
Ownership History
1924-1926 – The Milwaukee Electric Railway & Light Company #2 "Menominee"
1926-1938 – The Milwaukee Electric Railway & Light Company #1136
1938-1941 – The Milwaukee Electric Railway & Transport Company #1136
1941-1955 – London & Port Stanley #16
1955-present – Illinois Railway Museum, Union, IL
Click to return to Interurban Car roster
Click to return to main roster page