Internal Combustion Locomotives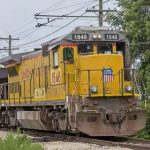 GE 1988
Union Pacific 1848
| | |
| --- | --- |
| Description: | Diesel-Electric B40-8 |
Equipment Information
Union Pacific 1848 is the newest locomotive preserved at IRM. It is a diesel freight locomotive designed as a "road switcher" for general freight train service and is an example of the "Dash-8" series of locomotives built by General Electric. It is IRM's only piece of equipment from the St. Louis-Southwestern, or Cotton Belt.
Union Pacific 1848 Details
Builder: General Electric
Year Built: 1988
Model: B40-8
Horsepower: 4000
Brakes: 26L
Engine: 7FDL16
Motors: 4 GE 752
Description: Diesel-Electric / ex-Cotton Belt 8049
Arrived: 2014
Condition: Complete / unrestored / operational
Union Pacific 1848 Ownership History
1988-1999 – St. Louis-Southwestern (Cotton Belt) #8049
1999-2002 – Union Pacific #5657
2002-2014 – Union Pacific #1848
2014-present – Illinois Railway Museum, Union, IL
Click to return to the main roster page
What was the Cotton Belt?
The St. Louis-Southwestern Railway (SSW), initially nicknamed the Cotton Belt Route and later known simply as the Cotton Belt, was a railroad stretching from St. Louis, MO, southwest through Arkansas and into central Texas. Created in 1891 from a rail network that traced its lineage to a narrow-gauge system built in the 1870s, the SSW gained its nickname from the heavy cotton traffic it carried from Texas and Louisiana to the Midwest via the St. Louis gateway. In 1932, the Cotton Belt fell under the control of the Southern Pacific (SP), and for the next 60 years it operated as a subsidiary and extension of the SP. It was one of the earliest "Class One" railroads in the U.S. to completely end passenger service when it curtailed its last passenger train in 1959. In 1992, the Union Pacific Railroad acquired both the SP and Cotton Belt.
Click to return to Internal Combustion Locomotive roster
Click to return to main roster page