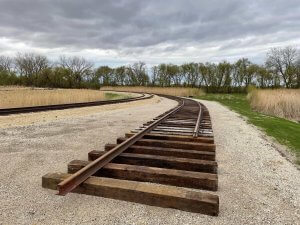 The RAIL Project (Rehabilitate And Invest in Longevity) is a major initiative to improve the museum's existing infrastructure and provide for future expansion and enhancement of the organization's storage and workshop facilities. Major work commenced in 2022 and is expected to last several years. Components of the RAIL Project include:
Excavation and grading required for future Yard 12 and Yard 16 including new storm water detention basins and storm sewers – COMPLETE
Extension of South Railroad Avenue to future Yard 16 – COMPLETE
Construction of lead to Yard 16 – COMPLETE
Removal, regrading, and track replacement in most of Yard 4 East – IN PROGRESS
Construction of an eastward extension of Barn 4 and the "lean-to" for added storage
Construction of Yard 12 storage tracks
Excavation and grading required for future South Storage Building
In addition, the RAIL Project includes engineering work done for the following construction projects. Construction work on these buildings is dependent on fundraising being done for each individual structure.
Yard 16 – Equipment Storage Yard
Barn 12 – Track and Equipment Storage
South Storage Building – Bus and Equipment Storage
Barn 2 – Replacement Diesel Building
IRM has long funded capital projects primarily through major donations and bequests, while equipment storage barns have been funded by donations made to individual pieces of equipment to ensure those pieces' indoor storage. Your contribution to the Indoor Storage Fund or to the IRM General Fund can help make our future expansion plans included in the RAIL Project into reality.
How to Donate
Donations to the General Fund can be made here. If you are interested in a major donation or bequest, click here.
Donations toward indoor storage space in Barn 15 may be made to the department of your choice here.