Internal Combustion Locomotives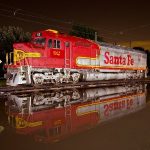 EMD 1967
Atchison Topeka & Santa Fe 92
| | |
| --- | --- |
| Description: | Diesel-Electric FP-45 |
Equipment Information
Santa Fe 92 is the most modern passenger diesel at IRM. It was built to power fast passenger trains for the Santa Fe but, as passenger trains were quickly dying out in the 1960s, it was built so that it could also be used to pull freight trains. After Amtrak took over intercity passenger service in 1971, this engine was rebuilt to haul express freight trains between Chicago and Los Angeles. It was one of two engines repainted in traditional red and silver to debut the "Super Fleet" program in 1991.
FUN FACT: The red-and-silver livery this engine wears is arguably the most famous railroad paint scheme in history. It's referred to was the "Warbonnet" color scheme, as it was modeled after a Native American chief's headdress with trailing feathers.
COMPARE ME WITH: Wisconsin Central 7525, an SD-45 freight locomotive built four years after Santa Fe 92. Under the hood, the two engines are nearly identical, with the same 20-cylinder prime mover and same motors. It's primarily the body framing – and 92's provision for a steam generator to heat passenger cars – that differentiates them.
Click here to read about restoring Santa Fe 92 to operation.
Click here to support the maintenance and repainting of Santa Fe 92.
Builder: Electro Motive Division GM
Year Built: 1967
Model: FP-45
Horsepower: 3600
Length: 71ft 4in
Width: 10ft 10in
Height: 15ft 8in
Weight: 398000 lbs
Brakes: 26L
Engine: 20-645E
Motors: 6 EMD D67
Trucks: Flexicoil
Description: Diesel-Electric (Ex 101 / ex 5992 / ex 5942 / nee 102)
Arrived: 1997
Condition: Complete / unrestored / operational
Click to return to Internal Combustion Locomotive roster
Click to return to main roster page