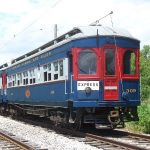 Hicks 1907
Chicago Aurora & Elgin 309
| | |
| --- | --- |
| Description: | Double-end railroad-roof wood coach |
Equipment Information
Chicago Aurora & Elgin 309 is a wooden interurban coach designed for high-speed service between Chicago and the Fox River Valley. It is the only preserved interurban car built by Hicks, a small car builder in Chicago Heights, IL. The car has the distinction of never having left the state of Illinois. In 1971 car 309 suffered a fire which badly damaged its interior, but following the fire, museum volunteers completely restored the car to its appearance in the late 1940s.
FUN FACT: During restoration of car 309, volunteers found a broken chisel hidden between the ceiling and roof. The worker using it had tossed it there when the car was being constructed in 1907.
COMPARE ME WITH: Chicago Aurora & Elgin 319. Car 319 originally had an interior that looked much like the 309's, with obvious stained-glass windows and varnished woodwork. But car 319 was much more heavily modernized by the railroad to obscure its Victorian-looking origins.
Click here to help with the preservation and maintenance of the CA&E wood cars at IRM.
Chicago Aurora & Elgin 309 Details
Builder: Hicks Locomotive & Car Works
Year Built: 1907
Seats: 52
Length: 53ft 1in
Width: 8ft 7in
Height: 13ft
Weight: 93500 lbs
Brakes: AMM
Motors: 4 GE 66B
Control: M-C6K
Compressor: D3-EG
Trucks: Pullman
Description: Double End / Double Truck / Railroad Roof / Wood Coach
Arrived: 1962
Condition: Complete / restored / operational
Read more about the history of this car in Rail & Wire #138
CA&E 309 Ownership History
1907-1922 – Aurora Elgin & Chicago #309
1922-1962 – Chicago Aurora & Elgin #309
1962-present – Illinois Railway Museum, Union, IL
What was the Hicks Locomotive & Car Works?
Illinois was home to several large and famous railroad car builders, including most notably Pullman but also plants owned by American Car & Foundry and Pressed Steel, among others. But it was also home to a number of more obscure railroad car builders. One of these was the Hicks Locomotive & Car Works, which was founded in Chicago Heights, IL, in 1897 by Frank M. Hicks. The company started out refurbishing and reselling used steam engines, but quickly expanded into reselling other types of railroad equipment as well as constructing wooden freight cars. It also kept up a slow but steady business building wooden passenger cars. CA&E 309, the only Hicks-built car at IRM and one of just nine Hicks passenger cars still in existence anywhere, was one of just two electric interurban cars that Hicks built.
A significant portion of the Hicks manufacturing works burned down in 1910 and the company fell into receivership. It was purchased in 1911 and renamed the Central Locomotive & Car Works. It lacked the equipment to build steel passenger cars, but freight car construction continued until the company went bankrupt and closed in early 1918.
Click to return to Interurban Car roster
Click to return to main roster page