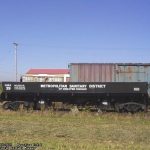 WWS 1930
Chicago Sanitary District (CSDX) 39
| | |
| --- | --- |
| Description: | Side Dump Car |
Equipment Information
Chicago Sanitary District (CSDX) 39 is a dump car that carried soil and other aggregate. It has large air cylinders which tip the car body to one side or the other to dump out the contents. It saw use in moving material around Sanitary District facilities in Chicago.
Chicago Sanitary District (CSDX) 39 Details
Builder: Western Wheeled Scraper
Year Built: 1930
Length: 41ft 6in
Width: 10ft 8in
Height: 7ft 9in
Weight: 60000 lbs
Brakes: AB
Trucks: Bettendorf
Description: MWD Dump Car
Arrived: 1990
Condition: Complete / restored / operational
Read more about the history of this car in Rail & Wire #255
What was the Western Wheeled Scraper Company?
Western Wheeled Scraper, or WWS, got its start in the 1870s when a man named C.H. Smith began producing horse-drawn scrapers for the Chicago Burlington & Quincy Railroad in Iowa. These scrapers, which could accomplish grading and earth moving work more efficiently than before, led to rapidly expanding business. WWS was formed in 1877 and the company moved from its original home in Mount Pleasant, IA, to Aurora, IL, in 1891. WWS continued producing a line of plows, road graders, and earth moving equipment into the early 1900s.
By the 1910s the company expanded into building railroad dump cars like this one, marketing the design under the name Western Drop Door Dump Car. WWS merged with another firm in 1934 to form the Austin-Western Company, with that company becoming a division of Baldwin-Lima-Hamilton – a well-known, though short-lived, builder of diesel locomotives in 1953. In 1973 the Clark Equipment Company, also known for constructing PCC streetcar trucks, purchased Austin-Western.
Click to return to Freight Car roster
Click to return to main roster page