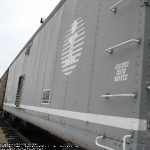 GATX 1946
Illinois Central 100641
| | |
| --- | --- |
| Description: | BMT Steel Milk Car |
Equipment Information
Illinois Central 100641 is a milk car, originally built for GPEX and designed for hauling 6,000 gallons of fresh milk inside of large glass-lined tanks. The car was purchased in 1971 by the Gulf Mobile & Ohio and modified for use in maintenance-of-way service as water car 66178. In this service it was used to help put out fires along the railroad tracks.
FUN FACT: This car carries a bit of Star Wars trivia on its sides – sort of. Up until the Illinois Central became the Illinois Central Gulf in 1972, the railroad used a green diamond logo; thereafter ICG used a logo that looked like a railhead. When ICG became Illinois Central again in 1987, it adopted the circular logo visible on car 100641, which was soon dubbed the "Death Star" logo for its resemblance to the Star Wars battle station.
COMPARE ME WITH: General American Pfaudler (GPEX) 1021, a milk car built for the same purpose to a generally similar design. The GPEX car is a larger 8,000-gallon car, about 10 feet longer than this car, and is still in its original configuration, set up for carrying milk.
Illinois Central 100641 Details
Builder: GATX
Year built: 1946
Length: 44ft 3in
Width: 9ft 10in
Height: 13ft 3in
Weight: 73500 lbs
Brakes: ABD
Trucks: Gould S2
Description: MOW water car / converted milk car / ex-GPEX 997
Arrived: 1998
Condition: Complete / unrestored / not operational
Ownership History
1946-1971 – General American Pfaudler (GPEX) #997
1971-1972 – Gulf Mobile & Ohio #66178
1972-???? – Illinois Central Gulf #66178
????-1998 – Illinois Central #100641
1998-present – Illinois Railway Museum, Union, IL
What was the Gulf Mobile & Ohio Railroad?
The Gulf Mobile & Ohio, or GM&O, was created in 1938 by merging two predecessor lines: the Mobile & Ohio, or M&O, and the Gulf Mobile & Northern, or GM&N. The north-south-oriented M&O connected St. Louis, MO, with New Orleans, LA, and Montgomery and Mobile, AL. The GM&N roughly paralleled the M&O for much of its route, connecting Mobile with Paducah, KY. Nine years after the GM&O was created, it acquired the Chicago & Alton, which gave it trackage from St. Louis to Kansas City and Chicago.
The GM&O modernized quickly, adopting early diesel-powered streamlined passenger trains. It was also one of the earliest large railroads to convert entirely from steam to diesel power. In 1972, it merged with the Illinois Central – yet another north-south railroad connecting the Gulf of Mexico coast with the upper Midwest – to form Illinois Central Gulf. This was later simplified back to Illinois Central in 1988.
Click to return to Freight Car roster
Click to return to main roster page