Internal Combustion Locomotives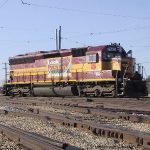 EMD 1971
Wisconsin Central 7525
| | |
| --- | --- |
| Description: | Diesel-Electric SD-45MQ-3 |
Equipment Information
Wisconsin Central 7525 is a diesel freight locomotive built as Burlington Northern 6525 for general freight service over the BN system. It later went to WC, which modernized it with a computerized control system and gave it a unique "Operation Lifesaver" paint scheme.
Wisconsin Central 7525 Details
Builder: Electro Motive Division GM
Year Built: 1971
Model: SD-45MQ-3
Length: 65ft 8in
Width: 10ft 6in
Height: 15ft 11in
Horsepower: 3600
Brakes: 26L
Engine: 20-645E
Motors: 6 EMD D77
Trucks: Flexicoil
Description: Diesel-Electric
Arrived: 2007
Condition: Complete / unrestored / operational
What was the Wisconsin Central?
Wisconsin Central Ltd., or WC, was a regional railroad dating to 1987 and based in – where else – Wisconsin. It formed following the bankruptcy of the Milwaukee Road, when the Soo Line – which purchased most of the remaining assets of the Milwaukee Road – spun off much of the rail network in central and northern Wisconsin to this new line. The name was derived from a previous company known as the Wisconsin Central that had owned much of the same route mileage during the 1890s and early 1900s before it was absorbed into the Soo Line (two cars from the "original" Wisconsin Central, coach 67 and boxcar 131650, are preserved at IRM).
The new WC successfully operated its network of lines in Wisconsin and as far south as Chicago. It acquired the Green Bay & Western and Fox River Valley Railroads in 1993 and the Algoma Central, a railroad directly over the border in Canada, in 1995. In 2001, the Canadian National purchased the WC, and still operates the former WC routes. This locomotive is the only piece of equipment from the "new" WC at IRM.
Click to return to Internal Combustion Locomotive roster
Click to return to main roster page